Headline News (more news coming soon)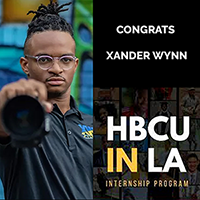 Xander Wynn
January '23
Congratulations Xander Wynn on being selected to the HBCU in LA Internship Program!
The HBCU in LA Internship Program provides a select group of diverse student leaders the opportunity to participate in a paid 8-10-week immersive internship providing experience essential for launching and leveraging a career inside Hollywood's coveted inner circle.
From his first film at Fourthwall in 7th grade which earned Xander and his crew an invitation to the White House, his participation in Fourthwall's after school jobs program, opening his own business at 16 and now an internship in LA, it has truly been a remarkable journey. We are so proud of Xander.
Now, just out of high school Xander is accepting business inquiries for film, editing and photographic work. Here's a link to his company Xwynn Films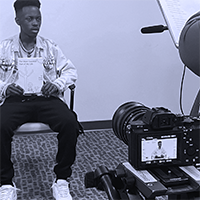 Enock Sadiki
January '23
Fourthwall student is now a published author!
We were privileged to have had Enock Sadki as a member of our Summer Apprentice Program. Enock and his team produced several films including 'Away Yet Awake: An Immigrant Experience' which went on to win 8 film awards.
Enock is familiar with the immigrant experience. He was born and raised in a Ugandan refugee camp before relocating to Cincinnati at 10 years of age.
His book 'The Essential Years of My Life' illustrates part of that journey. Enock attends Aiken High School and it's there that he met Kate Currie of Maketank who mentored Enock through the book writing process. See below for a link to a news clip on Channel 12 of Enock reading his book at Roebling Point Books and Coffee.
https://local12.com/news/local/aiken-hs-student-publishes-memoir-to-share-different-life-perspective#